React! Ideas in motion - 10 events for our 10th anniversary
30 June 2022 - In selected spots across Thessaloniki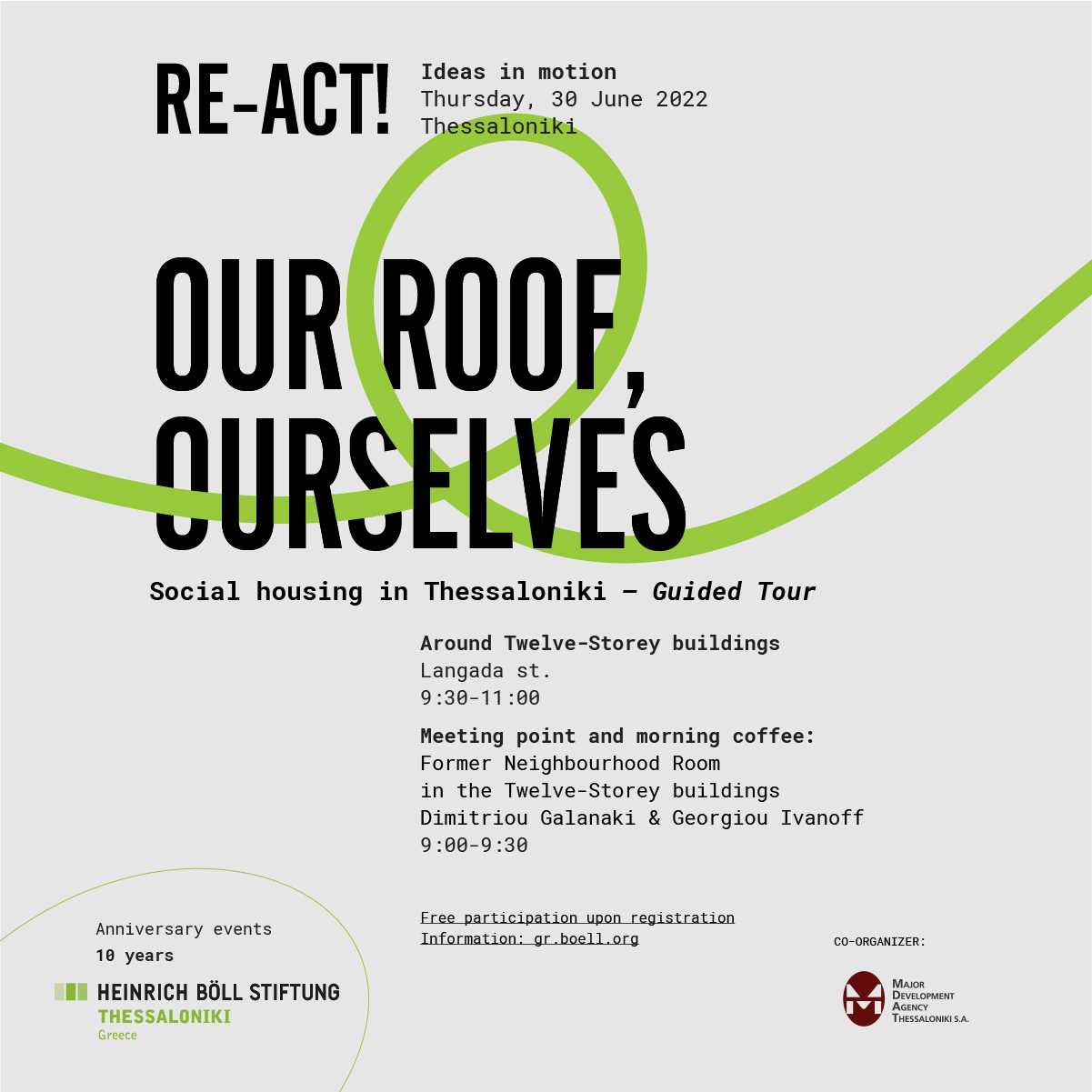 An alternative tour around the twelve-story buildings and their surroundings. A journey in the present that starts from the past and highlights the future of social housing in Thessaloniki. Because access to affordable housing is a key element in configuring cities, their social cohesion and above all supports a fundamental right.
Our roof, ourselves - Social housing in Thessaloniki
Around Twelve-Storey buildings (Langada st.), 9:30-11:00
Opening of a new Pocket Park in the Vardaris area. Participation has been a key in both its design and construction. Members and employees of the Self-Help Promotion Program, people from the neighborhood and friends of Vardaris joined forces. This effort created a new communal space for meeting, relaxation and creativity from, with and for the neighborhood itself!
A pocket park is born - The Vardaris neighbourhood welcomes a new common space
Vardaris' Pocket park (5 Afroditis st. & Odysseos st.), 11:30 – 13:00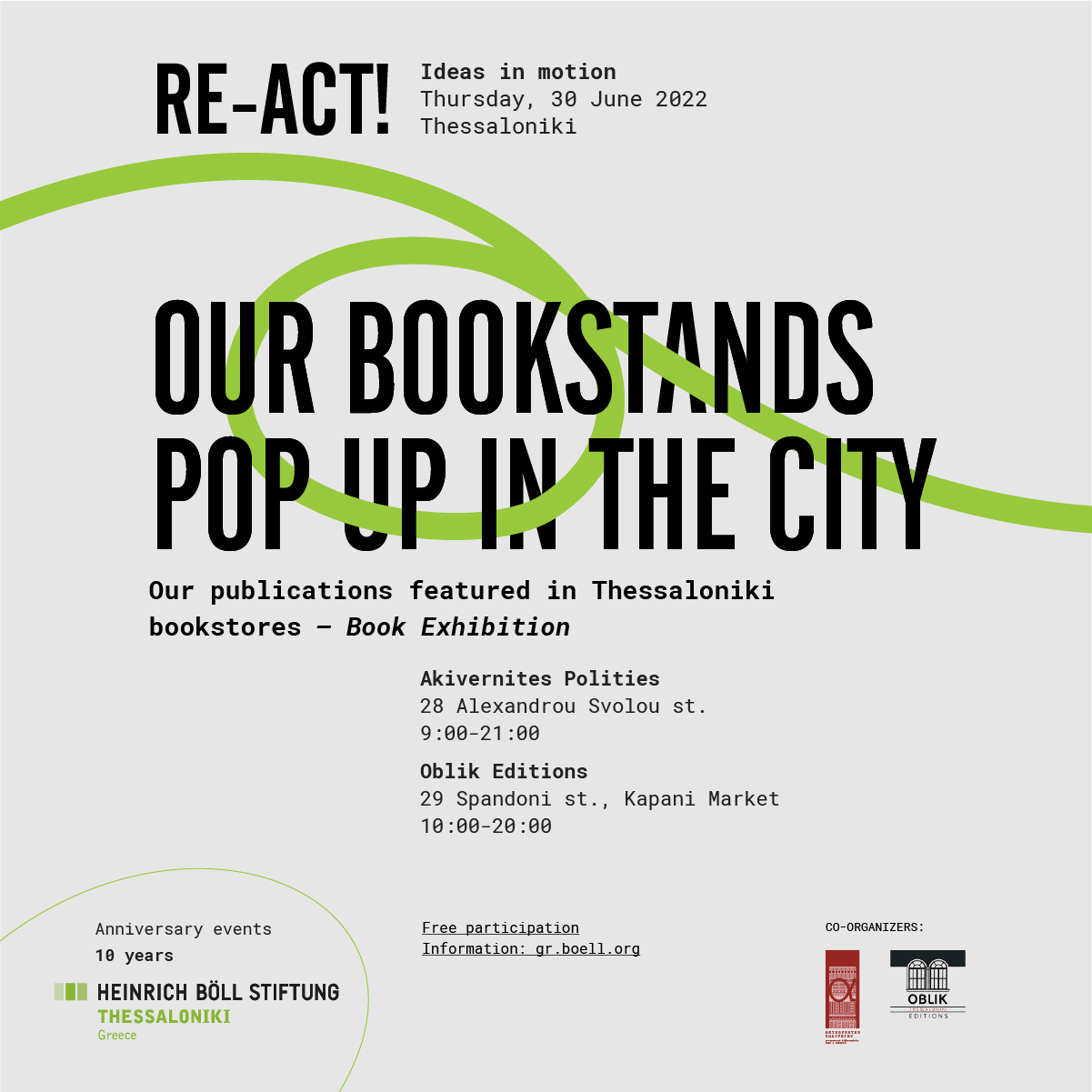 The publications of the Heinrich Böll Foundation are known for their validity and completeness and have gained the trust of experts, becoming reference points in the relevant literature. On the occasion of our anniversary events, they will be on display throughout the day in special stands in bookstores of Thessaloniki, so that a wider public can get to know them and obtain them free of charge.
Our bookstands pop up in the city - Our publications featured in Thessaloniki bookstores
Akivernites Polities (28 Alexandrou Svolou st.), 9:00-21:00 | Oblik Editions (29 Spandoni st., Kapani Market), 10:00-16:00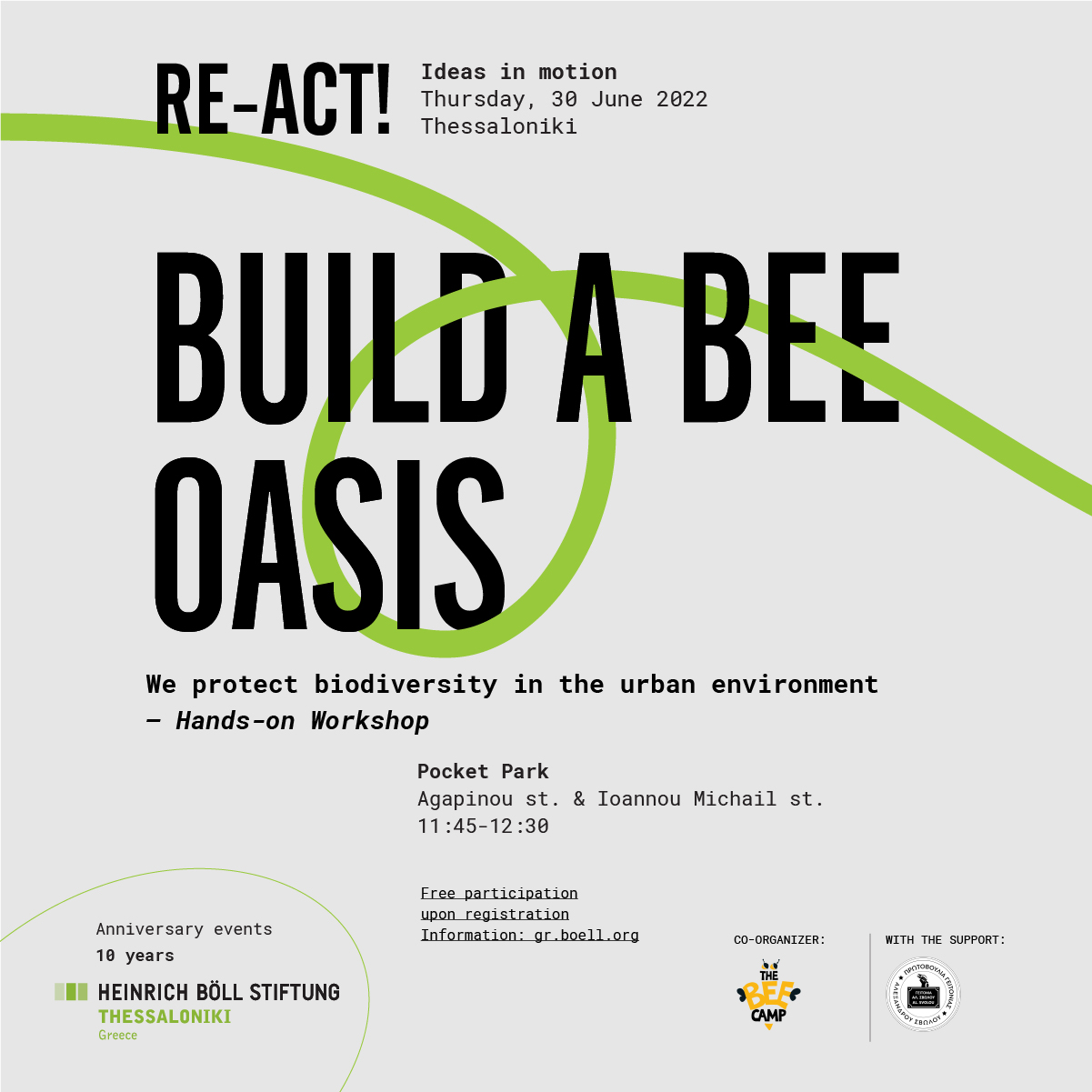 Through a hands-on workshop designed for all ages and genders, we aim to raise awareness about the importance of the bees on ecosystems and biodiversity, and of the challenges that they face. By planting bee friendly flowers (full of nectar and pollen), we create urban oases, suitable for these useful insects that are seriously endangered by pesticides.
Build a bee oasis - We protect biodiversity in the urban environment
Pocket park (Agapinou st. & Ioannou Michail st.), 11:30-12:30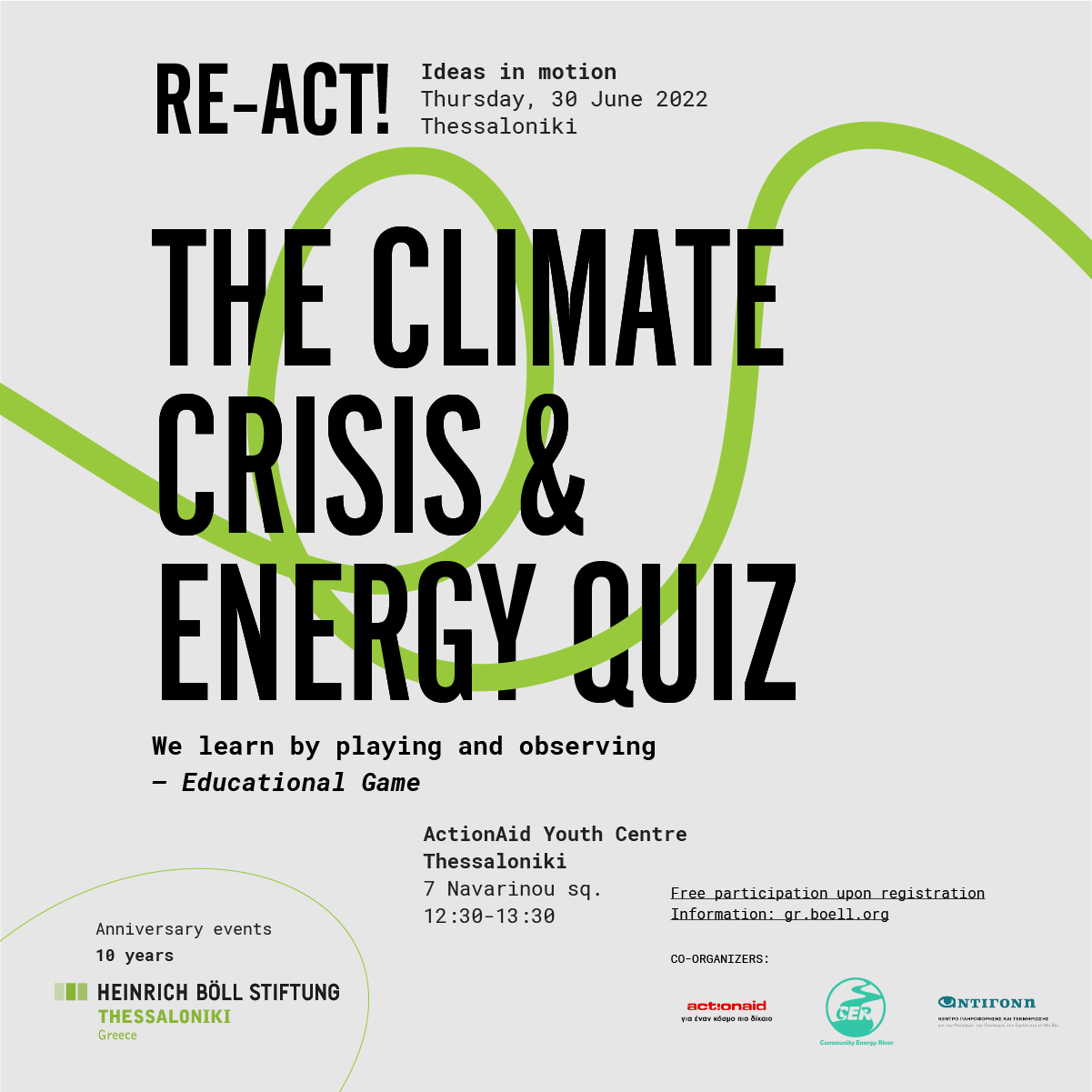 An educational game for children and adults, focusing on energy and the climate crisis. It includes a quiz whose answers turn our earth... green, a workshop on how we can all together become a community that produces energy, and through "magic binoculars" we see how the climate is changing in Senegal!
The Climate Crisis and Energy Quiz - We learn by playing and observing
ActionAid Youth Centre Thessaloniki (7 Navarinou sq.), 12:30-13:30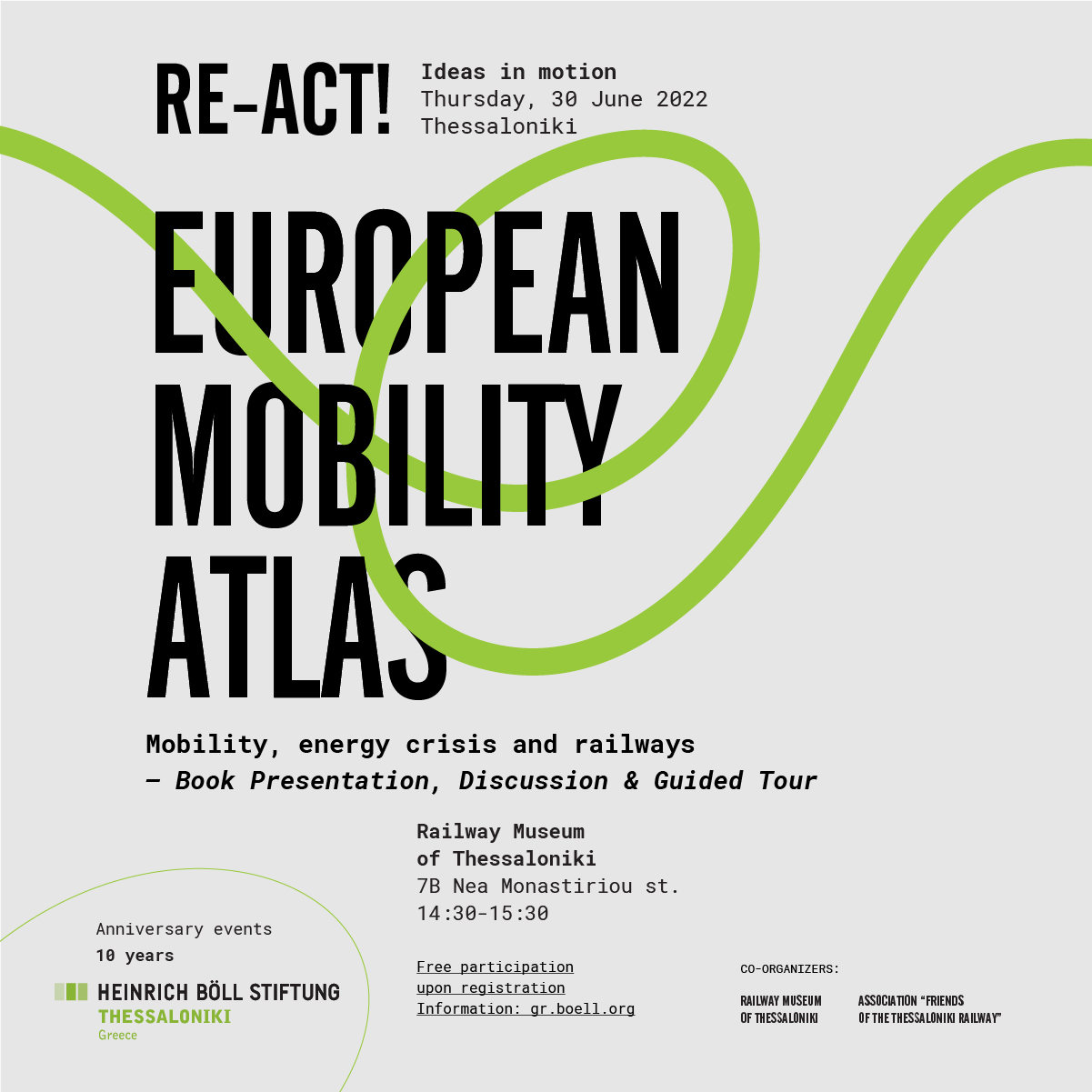 We present our new publication, the "Atlas of European Mobility", and discuss with experts how to tackle the energy crisis through sustainable mobility. We will also talk about the importance of railways and have a tour of the Railway Museum of Thessaloniki, which includes a carriage from the legendary Orient Express!
book presentation, discussion & guided tour
"European Mobility Atlas" - Mobility, energy crisis and railways
Railway Museum of Thessaloniki (7B Nea Monastiriou st.), 14:30-15:30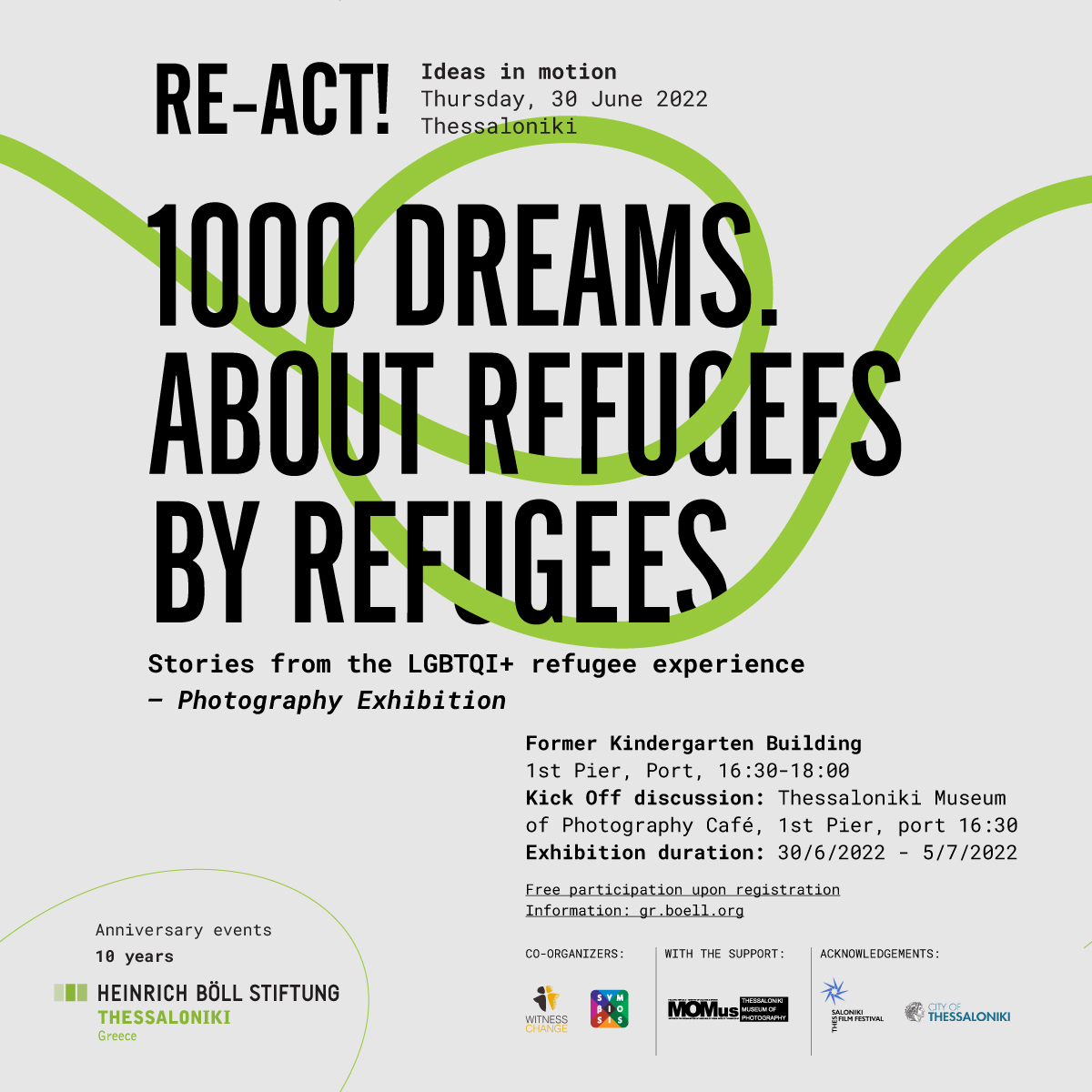 Our understanding of the refugee experience most often comes through stories told by non-refugees. 1000 Dreams is a project entirely authored by people with a refugee background and tells the stories of 1000 refugees across Europe. We will exhibit a selection of these stories coming from the LGBTQI+ community and offer an exhibition opening talk about refugee and LGBTQI+ dreams – and their rights and opportunities to pursue them.
1000 Dreams. About refugees, by refugees - Stories from the LGBTQI+ refugee experience
Former Kindergarten building, 1st pier, port, 16:30-18:00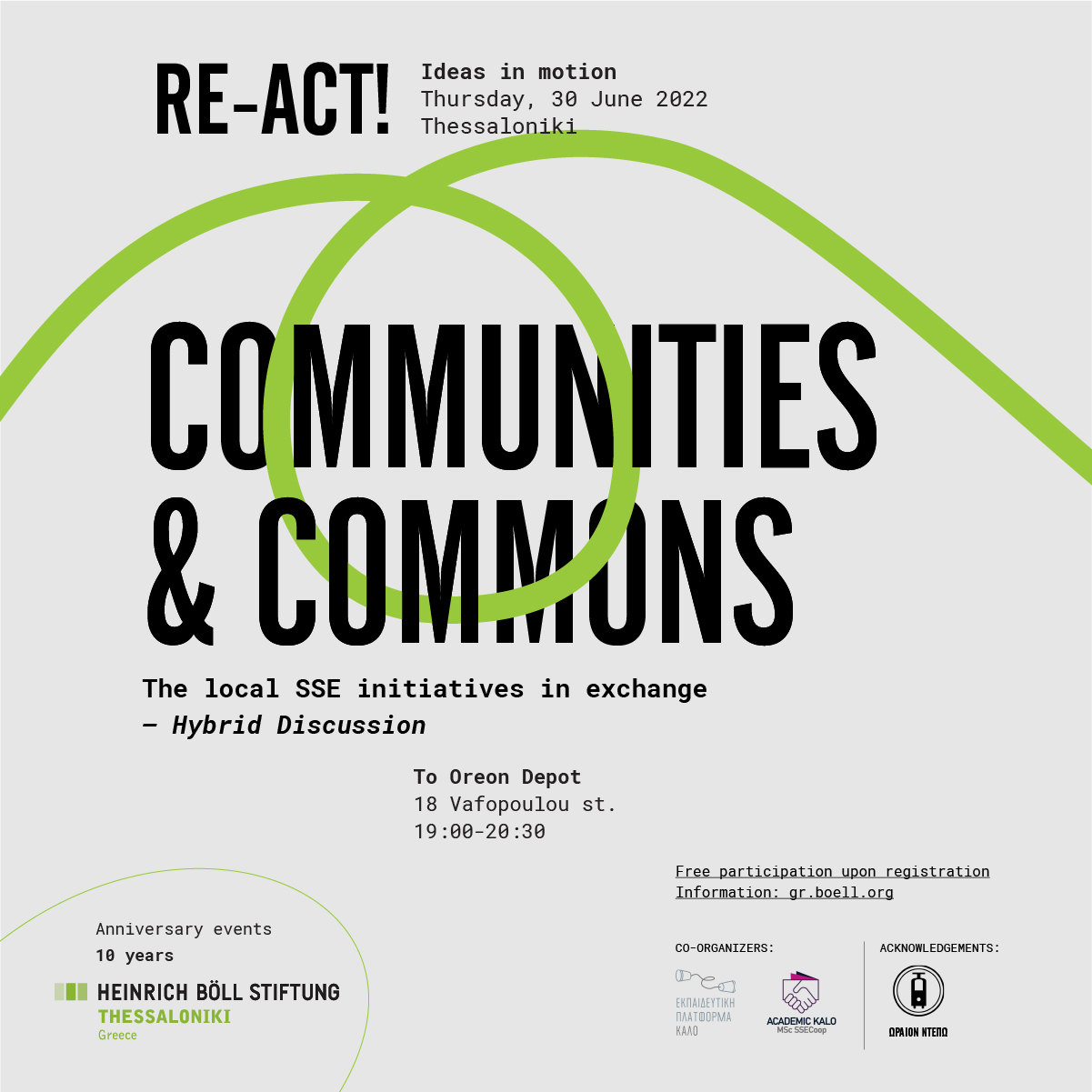 In the second stop of the series of events "The Local SSE Initiatives are Discussing", the Social Solidarity Economy initiatives of Thessaloniki decided to talk about communities and the commons. Terms that constantly reappear in one way or another, rallying people and trying something different in the here and now. However, where do the new and older initiatives stand today?
Communities and Commons - The local SSE initiatives in exchange
To Oreon Depot (18 Vafopoulou st.), 19:00-20:30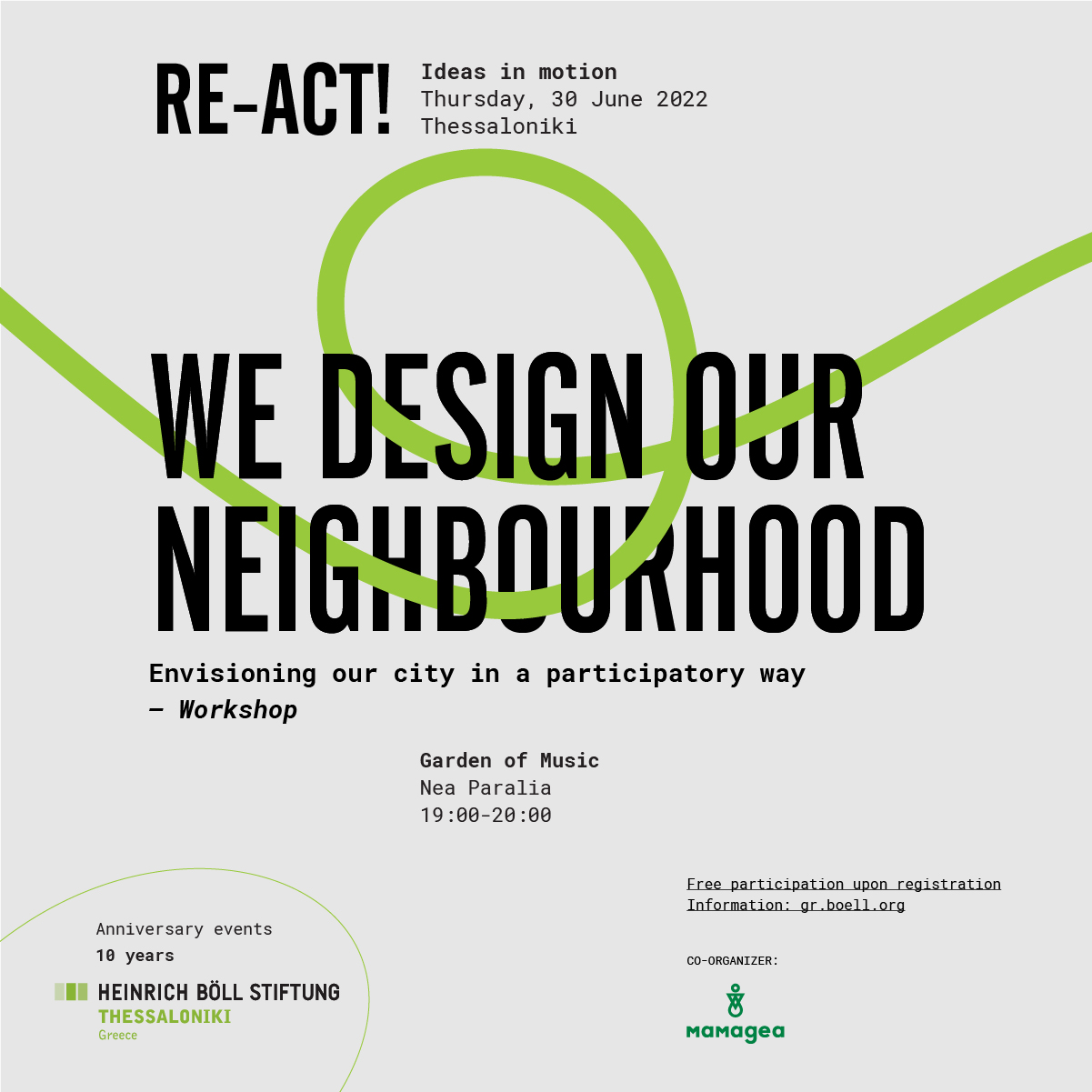 In this workshop, which takes place in Nea Paralia, a beloved public space of the citizens of Thessaloniki, participants are invited to "tell" stories of their daily life in their neighbourhood, but also to envision the neighbourhood and the city they want.
We design our neighbourhood - Envisioning our city in a participatory way
Garden of Music – Nea Paralia, 19:00-20:00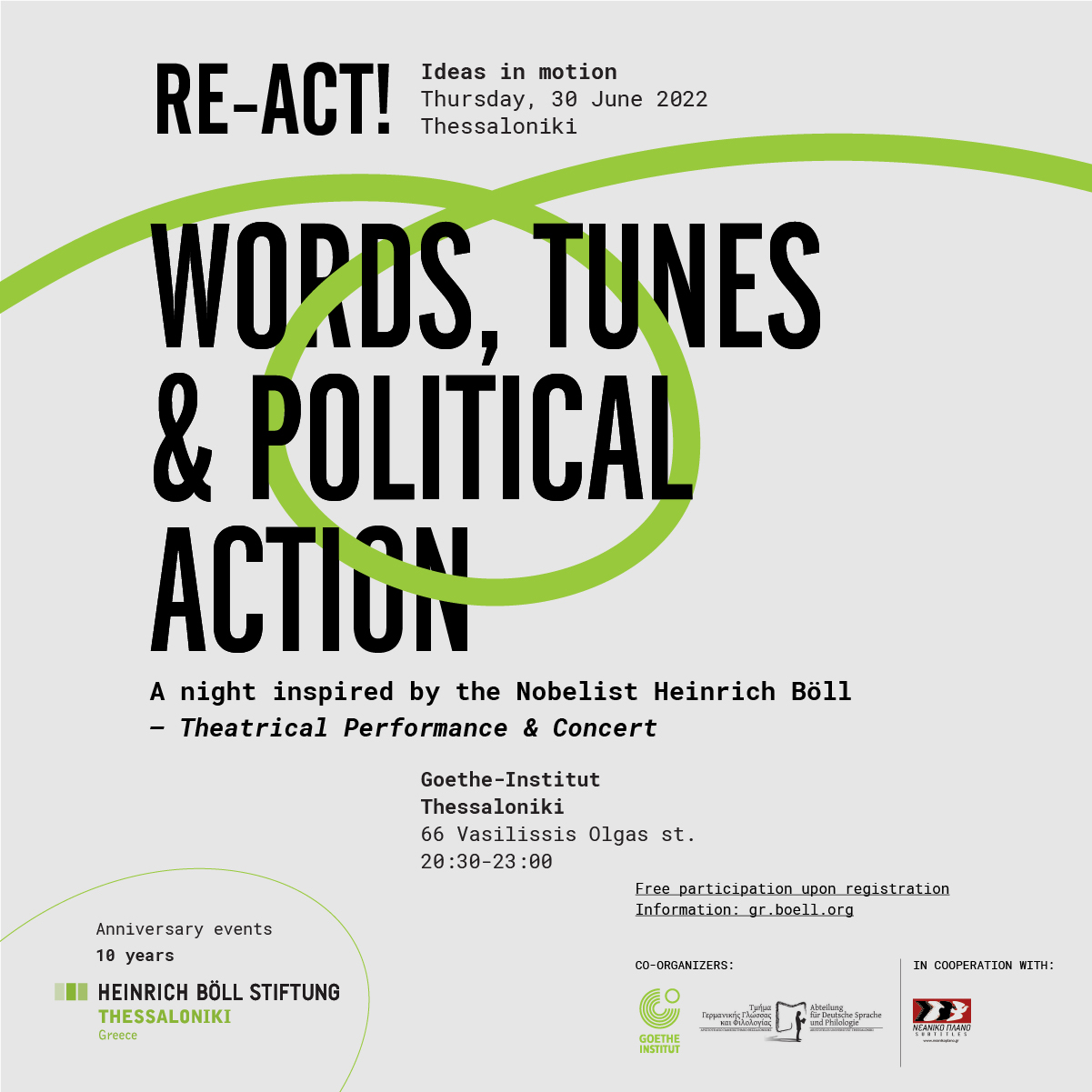 The two-day anniversary events will conclude with an event to commemorate the 50th anniversary of the award of the Nobel Prize for Literature to the great German writer, whose name our Foundation bears. Theatre meets literature and political action, while the evening closes in a relaxed atmosphere with live music, networking and conversations in the cool and welcoming courtyard of the Goethe-Institut.
theatrical performance & concert
Words, tunes and political action - A night inspired by the Nobelist Heinrich Böll
Goethe-Institut Thessaloniki (66 Vasilissis Olgas st.), 20:30-23:00