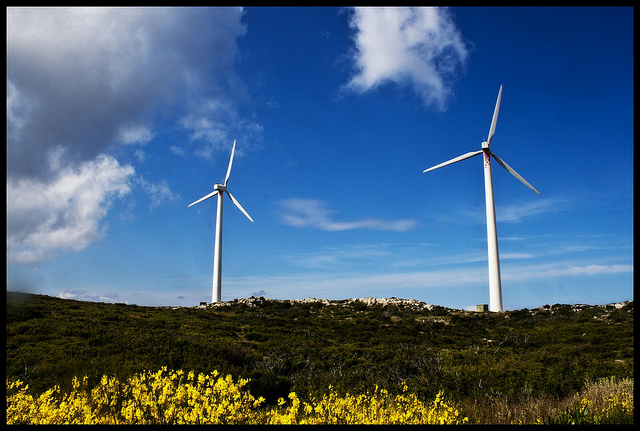 Ιnternational Conference
Saturday 06/09/2014, 10.30- 14.30 at the Prokos Foundation Hall, Apollonia on the island of Sifnos
 
Read the conference report here Conference Report
 
The Energy and Development Cooperative of Sifnos, the European Federation of National Groups and Cooperatives of Citizens for Renewable Energy (RESCoop.eu), the European Sustainable Energy Youth Network and the Heinrich-Böll- Foundation Greece organize the international conference for the promotion of renewable energy cooperatives on the Greek islands.
With participating speakers from Greece and the rest of Europe there will be a discussion on the necessities for the transition to an era without fossil fuels for environmental, energy, financial and social reasons. In particular, the experiences of European energy cooperatives will be presented and the challenges, the difficulties and the opportunities for their promotion in the European south and especially in the Greek islands will be analyzed. Also, the possibilities for financing the necessary investments of energy cooperatives through the use of innovative tools and through European programs will be examined. Finally, members of the Sustainable Energy Youth Network will present ways for the participation of youth in the promotion of cooperative practices.
Participation in the conference is free. Speeches will be in Greek and English with interpretation.
Information by phone on (+30) 22840-31030 or by e-mail to: info@sifnosislandcoop.gr
The conference takes place in collaboration with the Cultural Association of Sifnos, who organizes on Sifnos the 8th Gastronomy Festival "N. Tselementes", from the 4th to the 6th of September, in which institutions and individuals from many islands participate. With this opportunity, many islanders will be able to participate in the international workshop on energy.
Program
Saturday, 6.9.2014, Prokos Foundation Hall, Apollonia, Sifnos 
10.00-10.30: Registration
10.30-10.40: Opening – Introductory greetings 
Andreas Babounis, Mayor of Sifnos 
Apostolos Dimopoulos, Chairman of Governing Board, Sifnos Island Cooperative
Chrysanthos Vlamis, Heinrich-Böll-Foundation Greece 
10.45-12.15 
European policy on energy and climate protection and the contribution of energy cooperatives to the economy, the environment and the local economy
Climate change and the transition to a low carbon economy. The role and the potential of RES in the European South, 
Alkisti Florou, E.C. Program on Climate Policies, European Climate Foundation, Brussels Presentation
Common and public goods in the hands of citizens for the benefit of their communities, 
Dirk Knapen, European Federation of National Groups and Cooperatives of Citizens for Renewable Energy [RESCoop.eu], Brussels Presentation
Experiences from the creation of energy cooperatives in Croatia and introduction to the "Civil Energy" program, 
Robert Pasicko, U.N. Development Program "Energy and Environment", Zagreb Presentation
Strengthening participation of youth in the sector of renewable energy, 
Marina Petrovic, "Green Energy" Cooperative, Zagreb Presentation
Jamie Peters, Co-director of UK Youth Climate Coalition [UKYCC], Glasgow 
Coordinator: Nikos Chrysogelos, ex GREEN European Parliament Member
12.15-12.30 Coffee brake
12.30 – 13.30 
Experiences from programs on "sustainable energy" on islands
Energy Planning for Sifnos- Present Situation and Prospects,
Kostas Komninos, Network DAFNI Presentation
The plans of Sifnos Island Cooperative,
Apostolos Dimopoulos, Chairman of Governing Board of Sifnos Island Cooperative
The green energy (r)evolution and how citizens and communities could participate,
Nikos Chrysogelos, ex GREEN European Parliament Member
Good and bad examples of sustainable energy programs on islands,
Panos Korogiannakis, European Islands Network on Energy & Environment [ISLENET] and Conference of Peripheral Maritime Regions [CPMR], Brussels office
Sustainable Location of RES Units on the islands, 
Charis Tsoutsos, Associate Professor, Technical University of Crete, Head of Laboratory of Renewable and Sustainable Energy Systems (connection through Skype)
Coordinator: Giannis Gyllis, member of Sifnos Island Cooperative 
13.30 – 14.30    Questions - answers - comments - discussion.
Conclusions and closure
Coordinators: Apostolos Dimopoulos, Chrysanthos Vlamis