Anniversary events 29-30 June 2022
10 years Heinrich Böll Stiftung Thessaloniki
This year we celebrate the 10th anniversary of our presence in Greece with a two-day event full of ideas, inspiration, discussions and actions! The event will bring together leading experts, decision makers and civil society representatives in a collaborative effort to look beyond dominant narratives and to identify the necessary steps towards a fair, inclusive and livable pathway.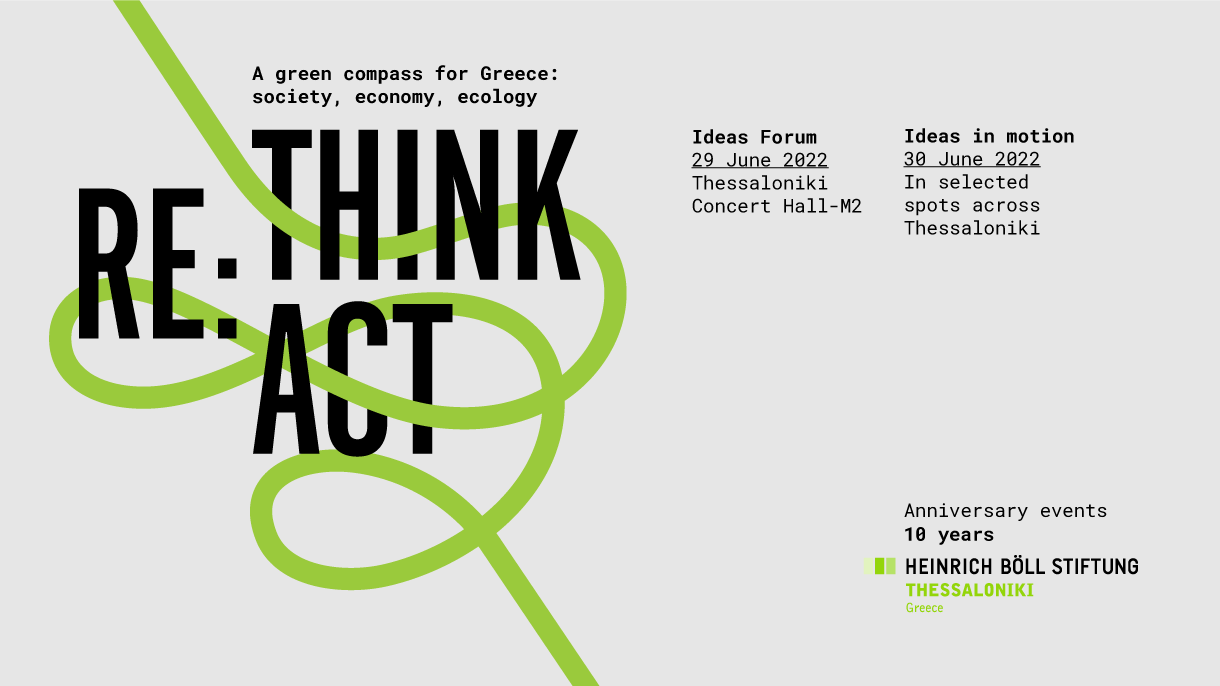 A green compass for Greece: society, economy, ecology
The way we live and co-exist, the patterns in which we produce and consume, the impact we have on our physical environment, the indicators that define the role of the economy… As all countries across the globe and within the European Union in particular, Greece is confronted with the challenge to reconsider its approach on all of the above en route to a more sustainable future. But these transformative times find Greece coming out of a long financial crisis followed by the pandemic that have triggered fundamental changes in its societal dynamics. This new reality combined with the urgency to mitigate the effects of the climate crisis that are already significant and will even escalate in the future in the Mediterranean call actually for a socio-ecological transformation. At the same time growing pressure against human and fundamental rights in Greece and the region is a severe challenge, at a time characterized by lack of solidarity from other EU capitals.
Re-think! Ideas Forum
29 June 2022, Thessaloniki Concert Hall - M2
On the first day, the conference participants will address questions such as: How can the economy recover a sense of public purpose? Why is it urgent to bridge the urban-rural divide? Why is it essential to set the foundations for energy democracy? How can we truly empower open and inclusive communities and saveguard human rights and democracy at all levels?
Re-act! Ideas in motion
30 June 2022, In selected spots across Thessaloniki
On the second day, we will attempt to show how the ideas of contemporary political ecology can be put into practice by producing practical results for a sustainable everyday life. Thus, by mobilising and coordinating a total of 23 other partner organisations, we are co-organising 10 events in 10 different spots of Thessaloniki (3 in the west, 3 in the east and 4 in the city centre).
Reports & Photos
Click on the images to find detailed reports from each event including extensive photo galleries!
Videos
Two short videos with the highlights from the two-day anniversary events
You can watch below the entire "Rethink" Ideas Forum by thematic sessions