8th Congress of Young Europeans, Thessaloniki 2023, 19-22 October
Independence Days: Our Challenges, our Responses
European Youth confronting the challenge of independent living
Still living in the parents' house? Confronted daily with precarious working conditions with low paid jobs, short-term contracts or even unpaid internships? Feeling stressed and uncertain about the future? Having the impression that the political debate does not reflect your needs?
If this sounds familiar, it is because indeed this is a widespread reality for young people all over Europe. The challenge of independent living has become a defining characteristic of this generation, a phenomenon with diverse consequences ranging from income to care and mental health, related to access to affordable housing, linked to rights and gender equality and triggering a feeling of political underrepresentation, of being left out.
The Congress of the Young Europeans comes back after an obligatory break due to the pandemic with its next edition that will take place in Thessaloniki 19-22 October 2023. The event aims at providing a platform to young Europeans from across the continent to meet, work with each other, voice directly their concerns, and put forward their own solutions, just over a few months ahead of the 2024 European Elections.
Within this framework, an international public conference will address the issues above, opening the debate to the city of Thessaloniki, once Europe's Youth Capital and host to one of the biggest universities in Southeastern Europe.
Organised by: Heinrich Böll Foundation - Thessaloniki Office / Green European Foundation (GEF) / Young European Greens (FYEG)
Local partners: Infinity Greece / ActionAid Hellas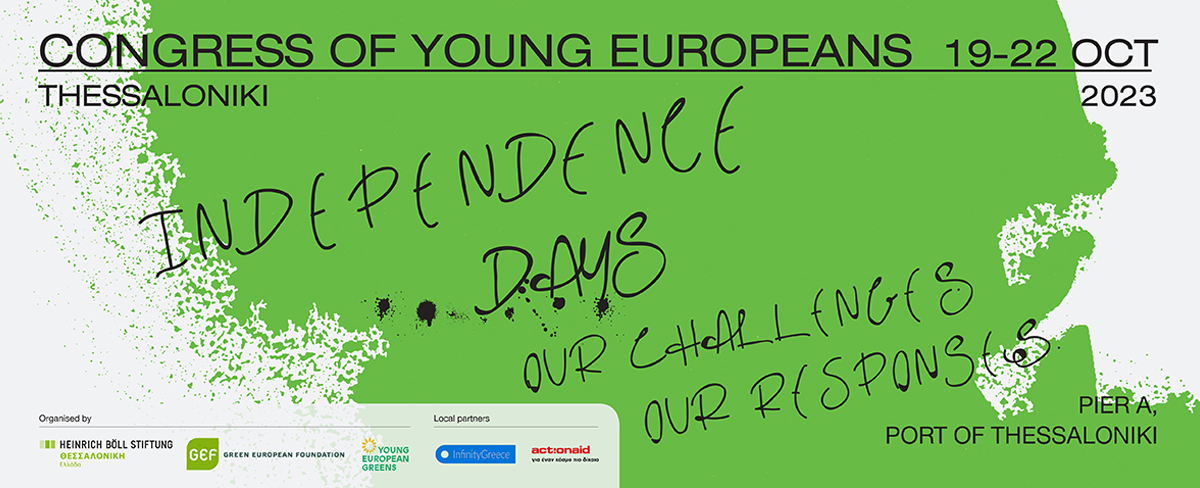 Thursday, 19 October
Arrival & Check in at hostels

20:00 Informal welcome gathering
Friday, 20 October
9:30-16:30 Workshops

18:30 Visits to HBS Thessaloniki partners
Saturday, 21 October
10:00-16:15 Public conference

18:00 Cultural programme

21:30 Party
Sunday, 22 October
9:30 Breakfast session

11:00-14:00 Roundup session

Afternoon: Departure
Call for participants (deadline 7-7-2023)